Have you ever played Minecraft? Minecraft maps are custom created worlds that are saved within Minecraft games. They have endless possibilities giving you an opportunity to try out different activities that range from playing adventure, to solving puzzle maps that test your problem-solving abilities among other activities. The only limiting factor when it comes to these maps is your own imagination — you can create your own Minecraft world within these maps and share with everyone. Would you like to know how to find, install and play all of these maps? We're here to show you how.
The Main Types of Minecraft Maps
There are all types of Minecraft Maps, and each one offers its own unique experience. But in general, most Minecraft maps fall into one of the following categories with common characteristics.
Adventure
Adventure Maps are one of the most common map types you'll find. They typically involve a lot of exploration and a common quest or theme and a clear storyline. Most of these maps make heavy use of command blocks to create complex gameplay situations and rules. Some of the most popular Adventure Maps include Terra Swoop Force, Asleep, and Dream Eater.
Complete the Monument
In CTM (Complete the Monument) maps, you are positioned in a difficult area filled with hostile mobs. You must survive and discover specific items that can be used to complete a monument. Some of the most popular and highest-rated CTM maps include Elytra Fall, Selakyn, and Sky Megalith.
Dropper
Dropper maps involve the player falling straight down through the sky while avoiding blocks. The goal is to reach the bottom of the map without dying. The original dropper design map was created by a map creator named Bigre and was called (no surprise here), The Dropper. Subsequent dropper maps have improved upon the gameplay and design. A few of the top-rated Dropper maps include Multi Difficulty Droppers, Dropper Unlimited! and The Drop.

Horror
We all like to be scared. It's fun! If you are up for a little of a thrill and want a far more intense experience in Minecraft, then turn down the lights in the room and try out a horror map. Be forewarned though, the majority of maps have many "jump scares." Many of them are not really for the faint of heart. Escape from the Hospital is one of the most famous Minecraft Horror Maps and a few other top horror maps include, Pacheco's Hell, Hello Zombie, and Demon Brain.
Parkour
Parkour maps are about getting to the finish line as quickly as possible, while skillfully navigating obstacles along the way. They almost always involve lots of difficult jumping puzzles that may test the player's skill (and patience). You can test your capabilities with some of the top-rated Parkour maps, such as Parkour Paradise, This is the Only Level, and Parkour Spiral.

 

Puzzle / Maze
Puzzle maps try to test your problem-solving skills. They often need you to complete a particular task to be able to check out the following puzzle. This may include crafting a particular item with limited assets or finding a concealed button to press. Some of the best Puzzle and Maze maps available include Escape Prison, 30 Ways to Die, and Secret Rooms.

PvE (Player vs. Environment)
PvE means "Player vs. Environment." It implies that the main goal of the map is to fight hostile mobs. This entails fighting the right path through an area, such as a dungeon, or attempting to survive a series of waves of enemies that attack your position. A few fan favorite PvE maps include Zombie Epidemic, A Knight's Tale, and Wall Protection.
PvP (Player vs. Player)
PvP means "Player vs. Player." These maps are all about brutal competition between players in-game. You can battle friends and family, enemies and just about anybody else willing to grab a sword and swing it! A few of the very best PvP maps include Krusty Krab: Hide n Seek, Vanilla SkyWars, and Christmas Brawl. You can really get into the holiday spirit with that last one.
Survival
There are various kinds of survival maps out there. Some concentrate on survival purely, for instance, the player will spawn upon a deserted island with not a lot of resources and must survive for as long as possible. Some Survival maps, however, incorporate strong story elements to help create a deeper experience. The best ones include Chunk Error, Sky Progress, and Coarse Sands.

Minecraft Adventure Maps
These adventure maps provide one with experiences that are more about fighting, exploring and finding out new things. They are more about puzzles, traps, and secrets that you have to be aware of before starting the game. In addition, you need to set and follow particular settings and rules about the game in order to ensure that you don't break any rules when you start playing.
Adventure maps are among the most fun Minecraft maps that you can play in the game.
However, the good news about this map is that some of them are designed to support multiplayer. If you like company while playing, Minecraft adventure maps will get your needs taken care of. Some of the best adventure maps you can choose from including The Tourist, Adventure Time, Kingdom of the Sky, Last Jump Hero, and Wrath of the Fallen, among others. Have you ever created a Minecraft map before?
Tips for Creating Your Own Adventure Maps
Here are a few tips on creating a good Minecraft adventure map. If you want to create a good and successful map, you need to:
Keep it interesting by being creative since people are interested in original, creative new gameplay features such as monsters and boss fights, among others.
Ensure that you test your map before you release it out there. Have a few people test it for you since even the slightest mistake can screw up the entire map.
To get more downloads; ensure that your map has an attractive landscape and that the builds and the terraforming look great.
Have an interesting storyline such that your map gives the player a particular goal to accomplish which shouldn't be so complex and far-fetched.
Customize your map by adding more custom sounds, particles, and special abilities.
Make a logical beginning for example by explaining why you set out on this save-the-world adventure. In addition, ensure that you have a well thought out ending that doesn't sound too cliché.
Other than these tips, remember that a good map depends on how good your imagination is. Don't restrict yourself. Imagine in the most creative way!
Some of the Best Minecraft Adventure Maps
There are countless Minecraft Adventure Maps to choose from, and together they represent hours upon hours of gameplay. Here we've picked out some of our favorites for Minecraft players seeking fun, adventure, and a little role-playing action.
Wrath of the Fallen
This is an oldie but a goodie from the clever map designers at Hypixel. It was first released way back in 2012 and since then it has become the gold standard against which all other Minecraft adventure maps are measured.
Wrath of the Fallen features six unique boss fights, a fast-paced hack-n-slash style of gameplay, customized and elite monsters, custom shops, and lots of item sets and unique items. There are no mods required to play, and it contains a full story line driven by the clever use of command blocks. For most players, the game will provide about two full hours of gameplay.
Terra Restore 2
Terra Restore 2 is a massive adventure map that claims to belong in a relatively new hybrid category of Adventure and Complete the Monument (CTM). In it, you will travel the fictional land of Nira with an Enderman companion named Exiel. Your goal is to restore peace and harmony in the land by re-aligning humans, monsters, and animals. The amount of gameplay is massive, offering most players about 11-14 hours of gameplay time.
Soulbound
Soulbound is an entertaining two-player co-op map that combines puzzle and adventure elements to create a lot of exciting and challenging situations. It comes in an episodic format with 12 individual levels with four epic boss fights. The full map provides between 7 and 10 hours of gameplay. Note that this map requires two players to play simultaneously in order to solve some of the puzzles. You cannot complete the map alone.
Helm's Deep: Fortress of Rohan
This is a faithful recreation of the Helm's Deep fortress from the movie, Lord of the Rings: The Two Towers. It's part of a larger collection of maps based on popular locations in Middle Earth. These include Edhellond, Isengard, and Éoford. The Helm's Deep map is the perfect setting to recreate some of the famous battle scenes from the movie.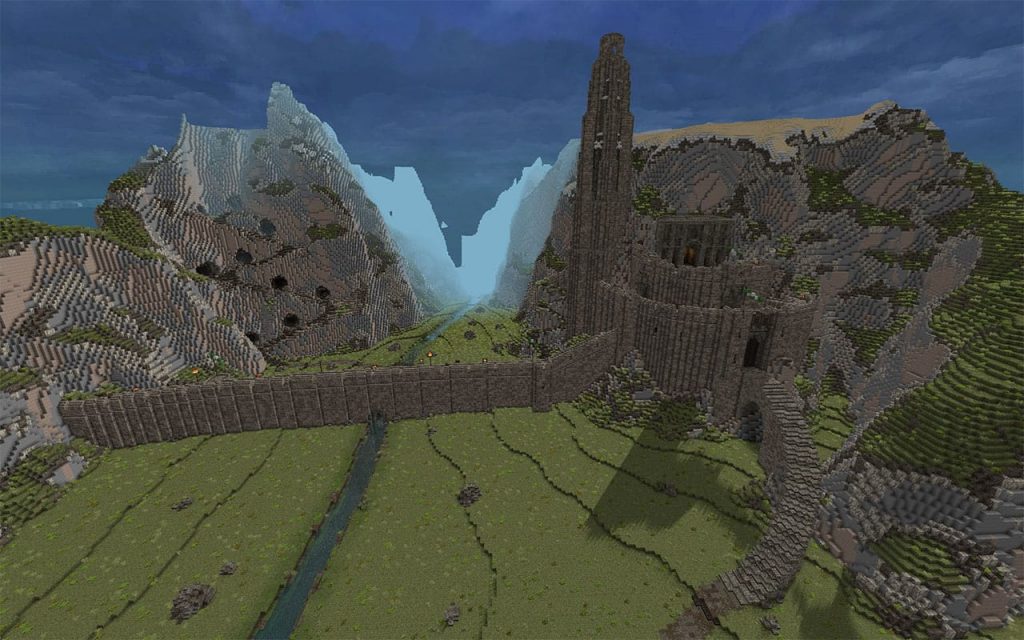 Minecraft Survival Maps
Another popular type of Minecraft Map that is closely related to Adventure Maps is the survival map. Survival maps typically resemble normal maps but with a very simple and clear goal: you want to survive and complete the end goal of the map.
Usually, the creator of the map will pre-determine the goal or difficulties of the map. Keep in mind that survival maps are very varied. This means that some might have a time limit, some will allow daytime cycles, some will put you on a map with little resources and much more. Some map creators will even produce a detailed back-story for the map, which greatly enhances the fun factor.
One critically important piece of advice when starting out on a Minecraft Survival Map: read the instructions. In some maps, you may have to alter a few game settings. Now that you have a bit of idea of what is a survival map, here are some popular ones that you can download:
Chunk Error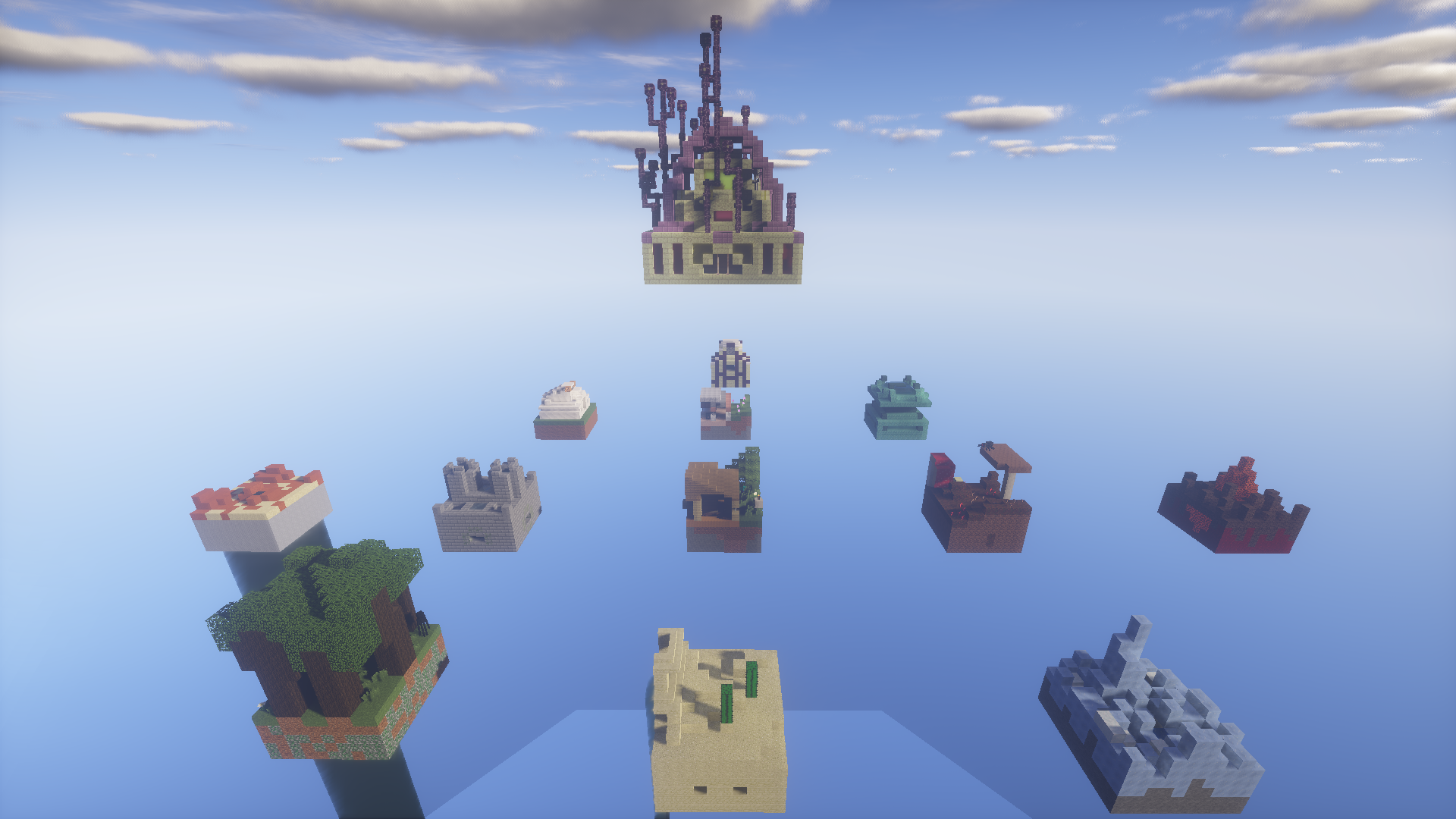 You created a world, but every day that you played in this world, you saw that slowly was changing, until one day the world was corrupt. Follow the quest to escape from this world!
Download Chunk Error Minecraft Map
Coarse Sands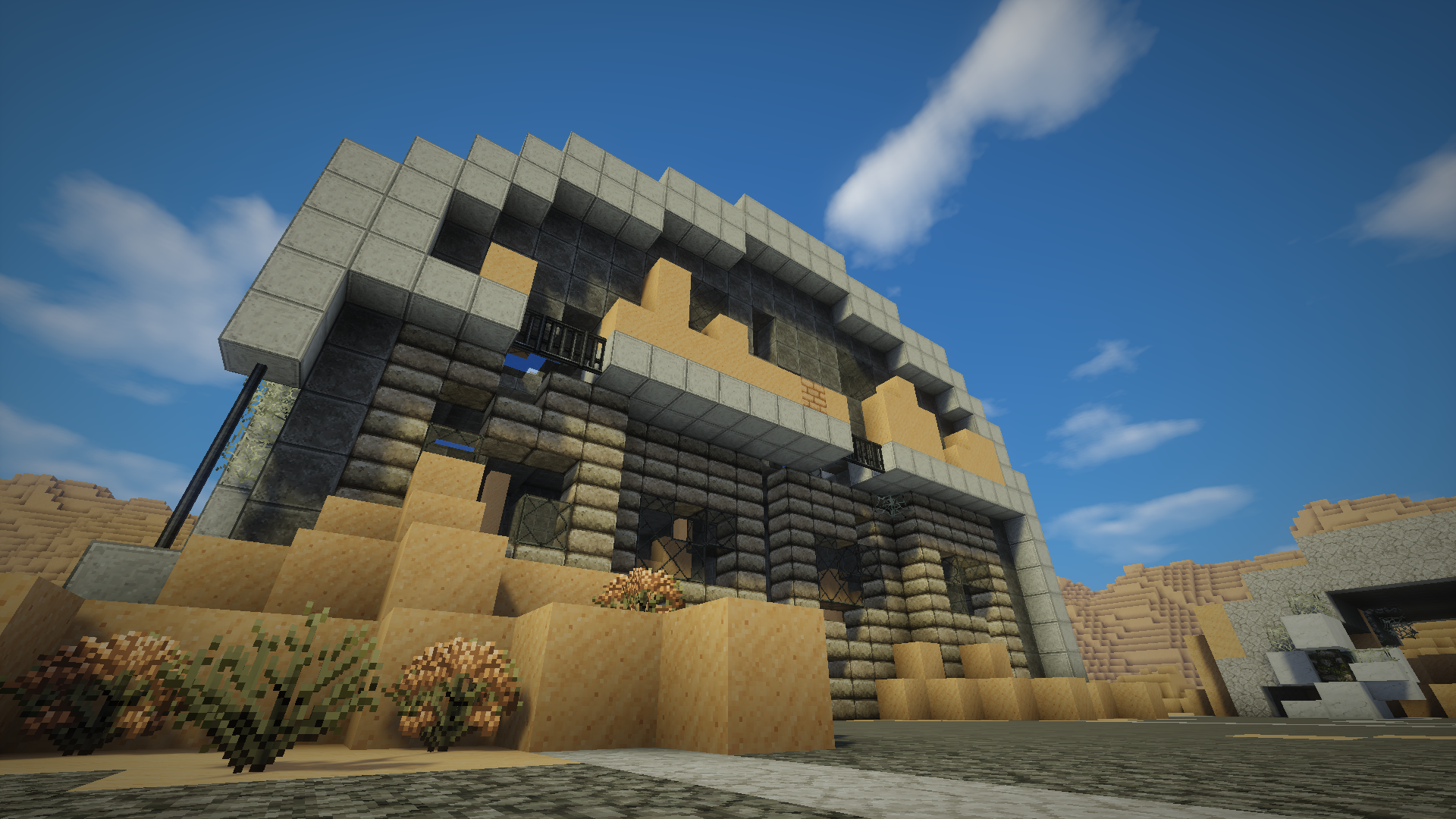 I don't like sand. Do you? It's rough and coarse and irritating and it gets everywhere. Your plane, under unknown circumstances, has crashed in the middle of a barren desert and everyone on board has perished. Everyone except for you (and your friends if you play multiplayer).
To stay alive, keep an eye on basic necessities like water, food, shelter, and sleep. You (and your friends) decide to live and find rescue. Start with the plane and see if you can find a radio. Good luck!
Download Coarse Sands Minecraft Map
Sky Progress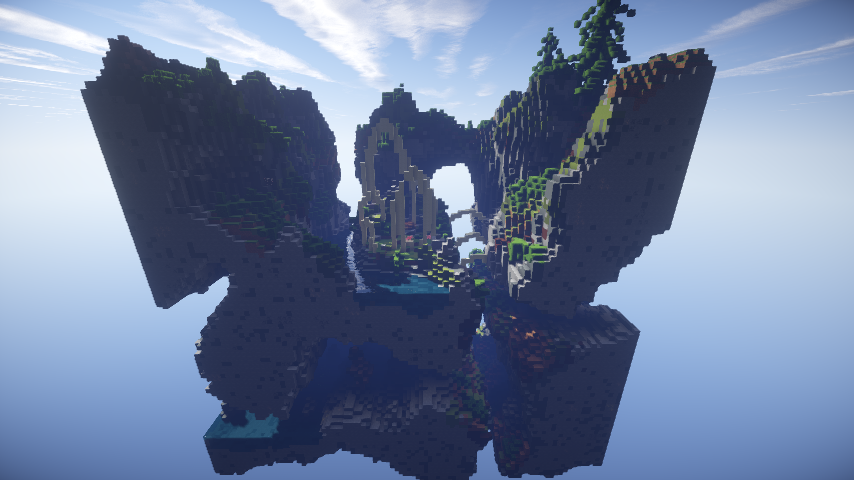 This map is an evolution of the famous SkyBlock map with several difficult and challenging objectives. Can you survive?
Download Sky Progress Minecraft Map
Minecraft City Maps
City maps are another popular map category in Minecraft, and some of the cities are built to enormous scale. Often, these are group efforts where several map builders come together on a server to help contribute to an ever-growing city.
Greenfield
Greenfield is an ambitious city build that claims to be the largest city map in Minecraft. It's probably true. This city is massive and is a pleasure to explore.
It contains a large downtown area with skyscrapers, wealthy suburbs, and even "bad" neighborhoods where you wouldn't want to get stuck when night falls. The city boasts a large transportation network, including roads, railways and even underground subways.
Greenfield is built on a 1:1 scale, where each block equals one cubic meter.
The latest version of the map, v0.5.2, adds the working class neighborhood of Westwood and the industrial Port of Greenfield to the map.
How to Play with Minecraft Maps
Do you know how to play these games? Well, it's easy! If you are using an Android device, for instance, you need to follow these steps;
First, download and install a file manager that supports archives. This file manager will enable you to extract map files and copy them to your Minecraft folder later.
Next, download the map file and ensure that it is for Minecraft PE and not for the computer version. In addition, ensure that the map you've downloaded matches the PE version you have.
Look for the download folder in your file manager app and open it.
Open the downloaded map archive by tapping it. This will display the content of the zip enabling you to see a folder that has a name of the map you downloaded.
Inside the archive, press and hold the folder to open a menu of actions. From the menu, select copy. This option will copy the folder allowing you to paste it anywhere you prefer.
In the same location, you found the download folder, navigate the games folder on your base directory.
Next, open the folder named com.mojang and then proceed and open the minecraftworlds folder.
Next, press and hold a blank spot and then select paste option to paste the new map folder onto the minecraftsworlds folder.
Now you have a new game. Start the Minecraft PE that you created earlier on and select the new map. This map will be listed on your saved games. Open it, play and enjoy the game!
What are the safety concerns?
Do you feel it's time to get some of the best Minecraft maps on your device for your kids to play? Although these games are a lot of fun, there a number of safety issues you need to take into consideration before you begin installing. To avoid messing up your Minecraft files or infecting your computer with virus, you need to;
Avoid dodgy-looking sites and use a reputable source for your maps.
Look for a Minecraft map that has been tested and tried and that which is compatible with the version that you are running.
Read pictures or demos and check what other people are saying about the content.
Always scan your device before opening the downloaded map.
Once you have downloaded and installed your game successfully, it's time to sit back, relax and enjoy the game. You'll have more fun exploring your new amazing Minecraft worlds if you follow a few simple precautions.
More Fun Minecraft Maps
We'll be back soon with lists of even more fun and really good Minecraft maps that you can download and play in the game.