Minecraft's default skins have their charm, but having a killer look is what separates the noobs from the pros. Designing a skin is pretty user friendly, thanks to some popular sites like Tynker or Nova Skin. If you're not quite on the artistic side, you can find a number of excellently designed skins readily available on community galleries. From popular gaming characters to superheroes and beyond, having an awesome skin is a need in order to stand out on any server (or to intimidate your enemies).
How to Make Minecraft Skins
It's a good idea to try customizing your own skin, simply because it's fun and it gives you a good understanding of how a skin works. Plus, you can make your own mini me. But before you jump in, make sure you have the full, paid version of Minecraft downloaded. You can't upload your own skins on the free version. DIY and downloaded skins are only compatible with the PC version of Minecraft, as of the latest update.
Using Skin Editors
Skin Editors make drawing, changing, and coloring skins easy. Tynker.com, nova skin.me, and the Skindex all have great editors with advanced tools to help you create any theme or idea you can think of. You can color the pixels in limb by limb, and view your skin in both 2D and 3D.
Tynker is a great site for kids or those new to Minecraft, as its editor is easy to navigate and use. Minecraft Skins, on the other hand, has a more advanced tool bar and interface where you can both rotate and color your skin in any angle. Once you're satisfied, all you have to do is save and download your skin file. Then, log into your Minecraft account and upload the skin.
How to Install Minecraft Skins
Changing your Minecraft skin is easy. The process of uploading and applying them to your character is quite simple and only takes a few steps. Once you've downloaded a skin file onto your computer, log into your Minecraft.net account. Click on "Skins" on the main menu, and click on "Browse skins." Then, upload your file. The rest is done for you, so that whenever you create a new world or enter a server, your skin will reflect the one you've uploaded.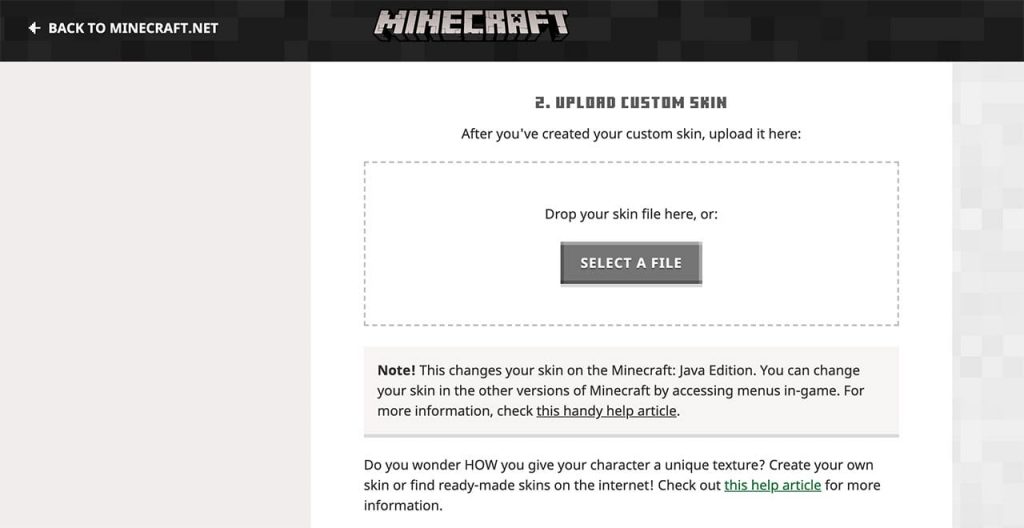 How do I get skins on Nintendo Switch, Xbox, Playstation, or mobile?
The drawback to playing on console or mobile is that you can't upload custom skins that you've created or downloaded. However, Minecraft makes up for this by providing a number of default skins and skin-packs available for purchase as Downloadable Content (DLC). You can even download corresponding texture packs as well. The DLC is quite nice, with a wide variety of themes from Egyptian Mythology to things from pop culture, such as Toy Story or The Nightmare Before Christmas.
Once you've paid, the skins automatically download and you can select them from the main menu. Minecraft uploads new content regularly, so you'll have plenty to choose from. Skin packs are pretty inexpensive too, usually in the realm of $2.99 for 5 or more skins. But a few $2.99 purchases add up pretty quickly, so if you're looking to save some money, it might be best to just download the skins of your favorite characters and movies for PC.
Downloading Skins from a Gallery
Most skin editors, including the ones we mentioned earlier, have galleries where users can upload and share their creations. If you see one you like, all you have to do is download it free of charge, and upload it to your own game.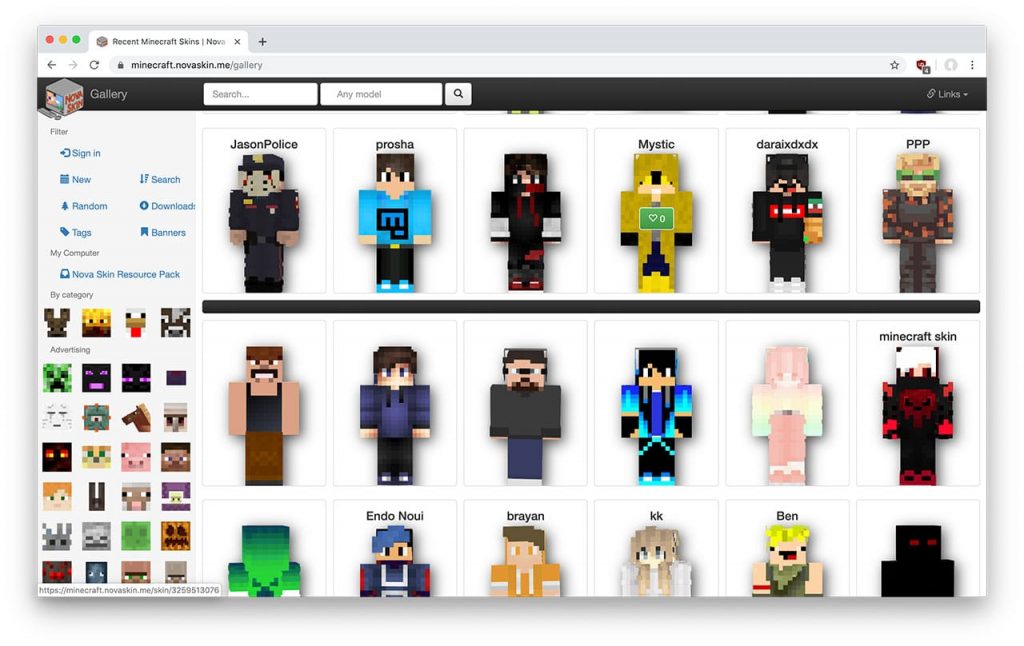 You can navigate a gallery by searching for a keyword, and pulling up all the relevant skins. But what do you do if you find a skin you really like, but there's just one small detail you wish you could change? Or maybe you've found a skin that perfectly suits what you're looking for, but you'd really rather have it on an Alex base, rather than a Steve. The solution is easy: customize it!
Customizing Skins You've Downloaded
Players upload skins on a gallery with the knowledge that anyone can download, edit, or use them. To edit a preexisting skin (including the Minecraft defaults), download the file, and upload it into a skin editor. It's also worth mentioning that you can use Photoshop or even Microsoft paint to edit a raw skin file, if you'd prefer it that way.
Make changes to the skin and download the file for your own use, or upload it to the gallery to share with other people. Although it's not required, it's a good idea to give credit to the original creator of the skin, just as a courtesy. Some people put a lot of time and effort into their skins, and as a result, there are some incredible creations out there.
There's so many options! Which one do I choose?
The hardest part of customizing your Minecraft skin is picking which direction to go in! The options are endless. If you frequent some more survival based, "dog eat dog" type servers, then you might go with a skin that is a little intimidating. You could even utilize a skin to help you blend in with your surroundings.
If you're more into the creative, building side of things, choosing a popular character or cool design could make you stand out and grab the attention of other players.
Using Skins to Your Advantage
Skins aren't just for looks. They can majorly upgrade your playing experience. By customizing your own set of skins, you can play team based games, like hide and seek or capture the flag. You could form a tribe or alliance, and invite your members to change into the official skin to distinguish them from other players. Lastly, for fans of roleplaying and RPGs, you can use skins to be your own OC or a favorite from a series.
Digging through the myriad of skin options available can be daunting for a new player, or even a more experienced one. The easiest thing to do is to explore skin editors and galleries to get a feel for other people's creations and the current trends. Once you get the hang of using your own skins, you'll be a step up from all the noobs still using defaults.
What are the Best Minecraft Skins?
The thing about Minecraft skins is that they're so plentiful and easy to install that it's nearly impossible to determine the "best" ones. Everyone has their own individual taste and style, and you can choose whatever skin fits your mood. And of course, change it whenever you feel like it!
But to inspire you, we've collected some of the most popular Minecraft skins from some of the biggest skin sites. Let's take a close look at some of the best Minecraft skins available.
Assassin's Creed Velho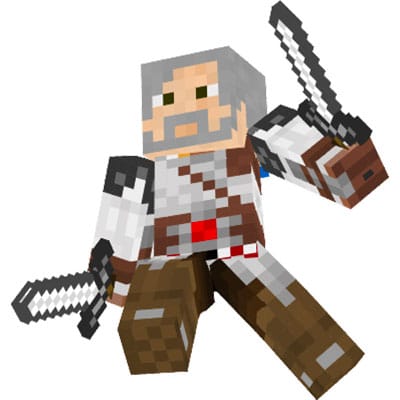 Based on the popular Assassin's Creed video game franchise. Download Assassin's Creed Velho from NovaSkin.
TV Head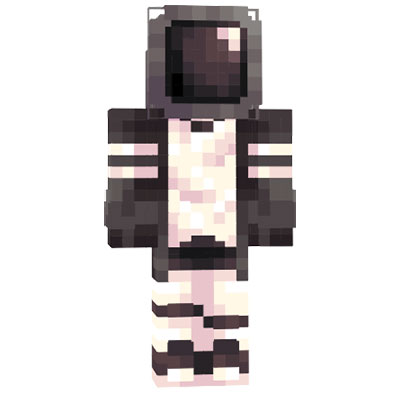 For people who watch way too much TV. Download TV Head from NovaSkin.
Unicorn Girl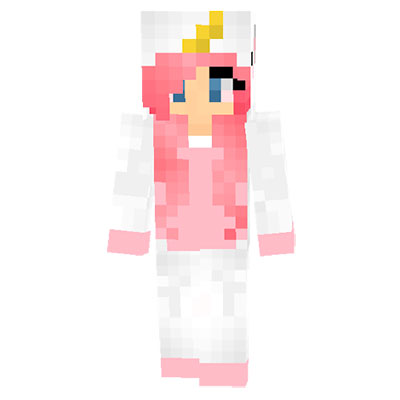 She's got a onesie and a horn. It's Unicorn Girl! Download Unicorn Girl from NovaSkin.
Oak Tree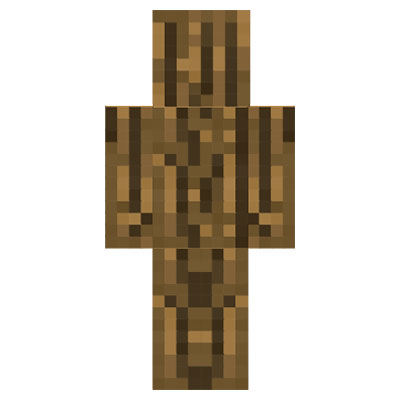 When you really need to blend in, the Oak Tree skin from NovaSkin does the trick.