The whole world around us has become filled with wi-fi networks of various shapes and sizes. Everyone is using the Internet and in order to use it safely, we need to have network connections that are reliable and stable.
This begs the question, how can we make sure that our Wi-Fi network is running at optimal capacity? There are some specialized software and tools out there designed with this exact purpose in mind. These software tools are called WiFi analyzers for Mac (they have them for Windows, too) and they give you an idea of your network's performance by measuring various parameters and providing useful feedback. This feedback is very good for using as a guideline for the improvement of your network quality.
When you perform a Google search for Wi-Fi analyzer, a myriad of search results appear. With all these software suites available and each of them promising to deliver the desired results, how do you go about choosing the version best suited to your needs? We will take a look at the best applications and Wi-Fi analyzer software available for your Mac. This list in no way exclusive and the apps featured on the list is intended to give you an idea of your network's performance.
Netspot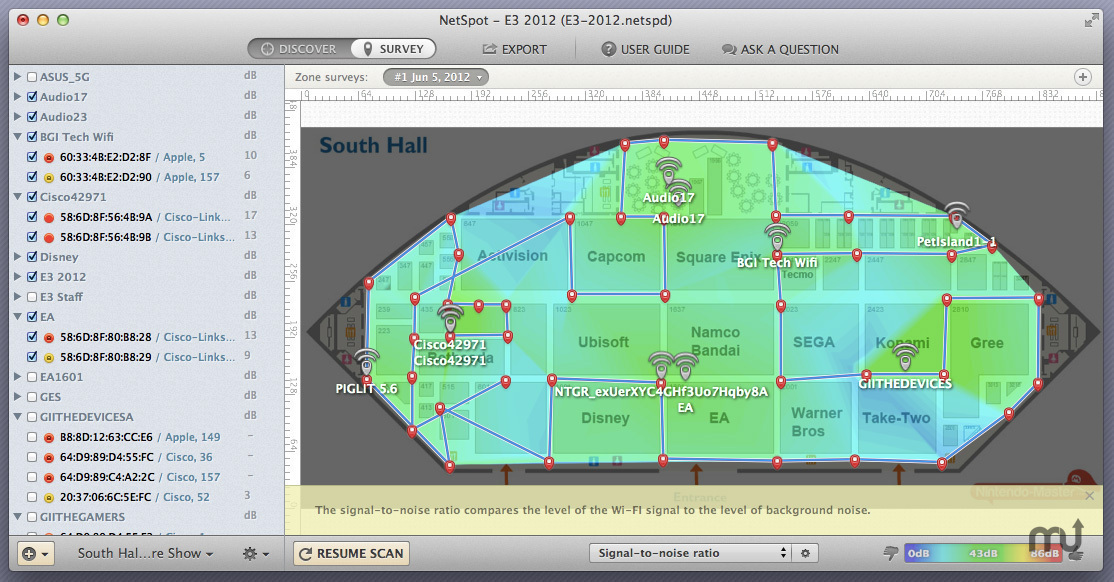 NetSpot is one of the most valuable software tools that you can use when faced with a troublesome wi-fi connection. Providing many advanced features that give a clear insight into existing problems and the possible solutions to those problems, NetSpot is an invaluable tool. Optimized especially for Mac, the software integrates seamlessly with your hardware to generate a user-friendly report. NetSpot consistently receives excellent feedback from customers and users.
iStumbler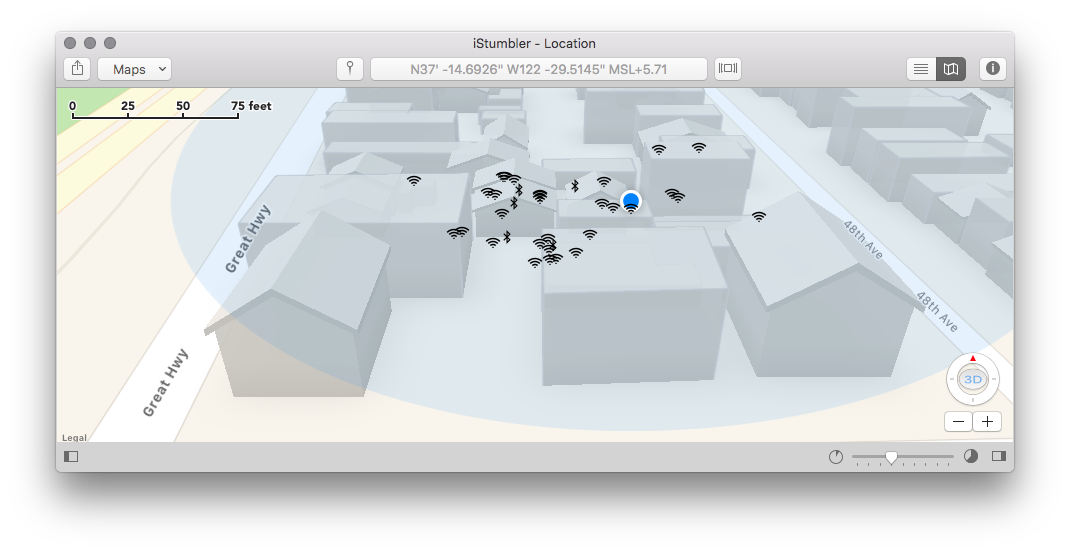 iStumbler was developed exclusively for Mac users and gives you an idea of the performance of various types of networks, including Bluetooth and Wi-Fi networks. The easy to use graphic user interface is clear and concise, giving you easy access to all the essential data parameters that you need. It lets you evaluate problems and implement fixes in your network. Professional grade Wi-Fi analysis is now available to the masses, thanks to iStumbler.
WiFI Scanner
Also, a great tool to have in your app collection, WiFi scanner provides fast and relevant feedback on the status of your networks. It comes with the added feature of detecting unwelcome guests via an IP scanner to protect your network from unauthorized users and potential hackers. It's not just a tool developed just for amateurs. It also is used by IT professionals to get an idea of potential problems with respect to data rates and connection quality. A handy ad-hoc function allows you to easily scan other networks too, just to be sure they are safe!
WiFi Explorer
This software does exactly what its name says, it explores your WiFi networks in search of potential issues and problems. It is very light on resources and doesn't cause any sluggishness in your system which is excellent for tasks requiring a lot of productivity. Find out why your download speeds have not been so great lately. Fix the problem, courtesy of the easy to use and understand the interface of this software. Wifi Explorer is a great tool to have at your disposal when faced with a network dilemma that seems unsolvable.
Kismac
This excellent freeware tool developed for Mac is a gem. It is easy to use and compatible with a wide variety of hardware. Easily troubleshoot your network and uncover the root issues of problems that you have been struggling to solve! Kismac was designed by professionals for professional use. This tool might be freeware, but it still packs a mighty punch when it comes to solving problems. The useful information produced by scanning your network is indispensable when it comes to solving problems. This app is a great addition to the network utilities on your system and will deliver on its promises.
One important note: Kismac is free but no longer supported and may not work on newer versions of your MacOS. the developers recommend NetSpot as an alternative.
Dealing with Sluggish WiFi
Has your WiFi been sluggish lately? Perhaps an in-depth scan of your network is just what the doctor ordered in order to get the problem resolved. In today's busy world productivity is important. We don't have the time to spend on searching for and solving problems with networks. The tools in the above list all provide easy to use interfaces which allow you to quickly diagnose and repair your network.
This is very handy since it can save us a lot of money in the long run. How many times have you considered replacing your router with a much more expensive model because you thought that it was the cause of a problem? We have all experienced this a few times only to have the same problem after replacing the router. This not only makes your wallet lighter. It can also cause great irritation and misery when you attempt to download large files or watch YouTube videos.
Running Your Own Tests
I have since run a scan on my own network and found that changing to a different channel was all that was needed. I really wish that I had known this before replacing my already expensive router with an even more expensive model.
Ever heard of phishing and hacking? Well, our own WiFi networks are prime targets. Household WiFi networks are not always protected and encrypted. Cybercriminals can exploit this fact to steal your valuable information. The apps on this list also provide options to improve your network security and ensure that thieves cannot access your data easily.
Hotspot mapping is another interesting feature that most of these applications provide. This can give you a good overview of where your WiFi network is not functioning optimally. Improving these spots will give you excellent WiFi speeds all across your house or office. Many times we spend unnecessary funds on too many WiFi access points in an attempt to eradicate bad connections, by using these apps you can save that money.
It is clear that there are many advantages to having some of these tools installed on your Mac, why not visit the Appstore today and improve your network exponentially. The apps are easy to download, install and understand so you can get back to the business of life quicker, with a better and safer network!